January 23, 2006 Monday
He sat back in the chair and ran his hand through his hair. He knew now that the pain in his shoulders and neck was from stress and not from his necklace with sharp points sticking from it. He was concerned that it was getting harder and harder to focus every evening. He leaned back and consciously let his shoulders drop, trying to relax. He thought of the story in his head that he wanted to write...the cool gray stone, her terror, the slick blood on his hands. He exhaled and tried to focus....logic, he knew there was logic....he liked to consider himself logical. Yes, he thought - he would focus with logic. Suddenly he had the most amusing thought cross his mind. If Spock had been a Vampire, he would have had pointed ears and pointed teeth.
Friday evening
System of a Downs, Aerials
Life is a waterfall,
we're one in the river,
and one again after the fall.

Swimming through the void
we hear the word,
we lose ourselves,
but we find it all...

Cause we are the ones that want to play,
always want to go,
but you never want to stay.

And we are the ones that want to choose,
always want to play,
but you never want to lose.

Aerials, in the sky,
when you lose small mind,
you free your life.

Life is a waterfall,
we drink from the river,
then we turn around and put up our walls.

Swimming through the void,
we hear the word,
we lose ourselves,
but we find it all...

Cause we are the ones that want to play,
always want to go,
but you never want to stay.

And we are the ones that want to choose,
always want to play,
but you never want to lose.

Aerials, in the sky,
when you lose small mind,
you free your life.

Aerials, so up high,
when you free your eyes,
eternal prize.

Aerials, in the sky,
when you lose small mind,
you free your life.

Aerials, so up high,
when you free your eyes,
eternal prize
January 28, Saturday
He was in a good mood...pretty much all night. He felt quite...what was the word?.....happy. He felt stable, friendly, it was rather odd. Maybe he could make this a habit....a friend told him when doing things...try to have fun...he would have to keep this in mind, as he had been over the last day or two.
January 30, Monday
The Vampire disliked driving amongst the stupid humans, but sometimes it was necessary. It was raining...had been all night. At one point brakes needed to be slammed, and the water from the roof rolled in rivets down the windshield of the auto. The Vampire imagined it was blood and grinned. Feeling like a zombie rather than a Vampire, he finally made it back to his domicile. Talking with some friends brightened his evening. Later he found himself outside, standing in the rain...feeling uncreative, illogical, exhausted. He closed his eyes, and the rain pelted down. Soon it started pouring, and he felt his body start to dissolve, dissipate...he felt his bones turn into liquid, and they held not his body. He felt himself transform totally into rain, and crash down on the pavement, but at least he wasn't so exhausted anymore.
February 1, Wednesday
Chevelle - The Clincher Lyrics
Touch
I'll stand for nothing less
Or never stand again
These are the limits when one's buried
This body's left the soul
Could we have known 
Never would I, helped to nail down
Careful of drifting off
Now losing taste and touch
Turning a pale blue leaning in to say
This body's left the soul
The brain needs oxygen
Can't sneak around this bait
His catacomb has got me by the chin
This body's left the soul
[Chorus]
Could we have known
Never would I, helped to nail down
With nothing to gain
Here's the clincher, this should be you
Now saturate [x4] and touch
Now saturate [x3], the earth
Now saturate [x3], the earth
[Last chorus]
This happened to be never changing
Holding inside, the phobia
Made cold and crippled, ending it all
February 11, 2006 Saturday
He got up out of the coffin, another unrestful spell. The nightmares were fading, but the paranoia stayed on the surface. He got up and went immediately to the sink. He needed to wash his face - he actually felt exhausted. He blinked, trying to focus his eyes, but it didn't seem to help much. He snatched up the toothpaste and brush. Suddenly he had a paranoid thought wash over him that the toothpaste was poisoned. He stared at the tube for a moment....not that it really mattered. Being he was a Vampire it wouldn't kill him, but it would certainly give him a nice headache. He grit his teeth and pushed the thought aside, and proceeded to brush his fangs.
The Vampire walked through the castle, heading out the long wing to the solarium. Every 24 hours, as it neared daylight the greenhouse door was closed from the main castle. This was a place no one walked through during the daytime hours, and he knew he would not endanger anyone come the dawn. He glanced around at the exotic plants and shrubbery, though this was not his interest at the moment. The Vampire walked closer to the huge glass windows and stretched out his hand to press against the cold surface. "No, not this one...too big...will stress out The Prince too much," he mumbled to himself. He walked further along the room until the huge glass windows were spaced apart with a stone wall, holding several smaller windows...just about the right size. The Vampire's mouth curled into an insane grin and he stood in front of one of the smaller windows and placed his hands on the wall, one on either side of the glass. In one quick movement, he brought his head back and then slammed it forward forcefully, and smashed it through the window. The sound of the glass breaking echoed in his ears and he hear the word 'bonus' in his head. He opened his eyes and looked at the shattered window, then down at the shards on the inside and outside of the wall, smeared with blood. He raised a hand to feel the lump on his forehead, and picked out a few small shards of glass. He pulled his bloody hand away and let his arm hang loosely by his side. His other arm was still outstretched and he leaned against the wall looking down.
Grumbling, he shook his head back and forth slowly. The lump on his head would be gone in a few minutes, the lacerations healed, but the window would remain broken. The Vampire sighed heavily. He knew there would be a lecture in his near future about self-control, but he needed to do this, it had to be done. He had to be able to focus, or he wouldn't get any work done. Surely the Prince could see the logic in this.
February 20, 2006 Monday
STAIND LYRICS

"Falling"

You in your shell are you waiting for someone to rescue you from yourself.
Don't be disappointed when no one comes.

Don't blame me you didn't get it [3x]

I already told you, that falling is easy it's getting back up that becomes the problem, becomes the problem
If you don't believe that you can find a way out you become the problem, become the problem.

Don't blame me you didn't get it [3x]

You, all alone, are you waiting for someone to make you whole?
Can't you see aren't you tired of this dysfunctional routine.

I already told you, that falling is easy it's getting back up that becomes the problem, becomes the problem
If you don't believe you can find a way out, you become the problem, become the problem.

Falling is easy it's getting back up that becomes the problem, becomes the problem
And if you believe you can find a way out
Then you've solved the problem, you've solved your problem.
March 2, 2006 Thursday
He felt like he wanted to write, needed to write. He glanced down and smirked. He hadn't even put on his boots yet before hitting the journal. Very unusual. Lots of things raced through his mind, some making him grin, others causing stress. He decided to focus on one of the topics that brought a smile to his face. As he started working on the story, images danced in his head, and his grin widened. Last night the only things he wanted to write about was blood and violence and carnage. This evening...he paused and snickered...well - there was still some blood and violence involved. He started laughing and took a sip of his coffee and started to write.
March 3, 2006 Friday
He felt the long hooked fingers of paranoia ripping into his brain again. Sometimes he thought he was free of this one, but he knew he would never be that lucky. Thoughts that shouldn't be there, were. He slid his eyes to the left, and glanced over his shoulder. Grumbling under his breath, angry at himself, he tried to push the thoughts away. He stood up and almost lost his balance, side-stepping to catch himself. "No!" he growled, "I don't want this." he snapped at himself. He needed to get somewhere safe. There was one place......
The Vampire made quick steps out of the mansion across the expansive yard, and headed toward the cemetery. He made a beeline for the largest mausoleum. He unlocked the door quickly and turned, locking it behind him. The room looked small, compared to exterior of the structure. He looked to the crack on the wall, and placed another smaller key into the center of the fracture, and turned it. A slab wall opened, revealing a very large hidden room, with several rooms off of it. It contained a coffin, bed, medical table and equipment, and a variety of other torture devices, among other things. He stepped into the room, and the slab closed, the sound of stone against stone echoed in the sound-proof room. The Vampire let out a heavy sigh and glanced around. No one who had entered this room with him left alive, save one. He grinned, in spite of himself. He headed for the four-poster bed near the center of the room. He lay on his back, his arms outstretched. The Vampire let thoughts of knives and needles and blood fill his head to relax himself. He then reached over and clicked on the stereo on the nightstand and brought his arm back, laying as he was before. He closed his eyes. "Twisted Transistor" by Korn blared from the speakers, and a grin slowly curled his lips. He let himself totally relax...dislodging his mind from that strangling grasp.
March 21, 2006 Tuesday
He poured himself a cup of coffee, thinking of the nightmares that filled his head last night - they were bizarre at best. The Demon suggested the source of his dreams and he nodded, it made sense. He didn't even like the image of the first dream...but the second one was very interesting, talk about a camping trip with a bonus *evil grin*
The Vampire's package had arrived the other day. He set the coffee cup down on the counter next to the Bunsen Burner and unrolled the white cloth. The new scalpels were nestled inside. A wicked grin curled his lips and he picked one up, thinking of the camping dream...images of him over the two campers, slashing their faces, just to stitch them up again. Suddenly he became solemn, and he grit his teeth. It had been too long since the last surgery...way too long. He needed to cut flesh, needed the release. He rose, and got ready. He wondered where his Lab Assistant was at the moment, another grin creeping on his lips. The word "stumpy" came to mind and he grinned widely. It was time to get to work.
March 26, 2006 Sunday
He gently ran his hand over her smooth back while she slept, tracing her shoulder blades with his fingertips, feeling the warmth of her flesh. He signed heavily, inwardly, as he straightened up. Staring down, his mind saddened, his heart feeling like it was in a vice, he left quietly. She would never know he had been there.
April 2, 2006 Sunday
He walked into the library. It was empty and quiet. "Good," he thought and walked to his favorite chair, and slid it directly in front of the fireplace. The fire was stoked and burning hot and high. The Vampire leaned back in the chair, and swung his legs up on top of the ottoman, crossing his ankles. He dug the new pack of clove cigarettes from his inner pocket and turned it upside down and tapped the pack against his other hand a few times, then torn the "string" around the top of the box, and took off the cellophane. He flipped the top open and retrieved a cigarette. He held it between his fingers a few minutes without lighting it and stared into the fire - trying to sort some things out in his head. "It's kewl," he thought, and a slight grin curled his lips. He stared down at nothing at all, then looked back to the fire, and watched the amber and crimson flames dance against the brick.
Slowly he raised the cigarette to his lips and clicked the lighter, bringing it to the end of the stick. With a quick inhale, the end lit up bright, like one of the embers in the fireplace. He took a deep drag, and let the smoke curl out through his nose and almost chuckled, but instead grit his teeth. "No problem, no problem at all," he lied to himself. He took another deep drag hoping it would burn his lungs, but of course it didn't. "It's kewl," he grinned evilly, "Party on, party on."
April 6, 2006 Thursday
The Vampire sat in his stone desk and looked across the room to the wall in front of him. The crimson stain was satisfyingly large. He chuckled insanely under his breath and gingerly touched his forehead. Several thin bloody streams had rolled down the wall to the baseboard, reminding the Vampire of tendrils on a jellyfish. As a matter of fact, the whole stain looked like some bloody surreal painting of a jellyfish. He leaned back in his chair, interlacing his fingers, and rested his palms against his chest. The lyrics from System of a Down's Hypnotize ran through his head, and he was amused that "I'm just sitting in my car and waiting for my girl" actually sounded like "I'm just sitting in my car and waiting for my gun."
He unfolded his hands and reached up and touched the tip of his nose, remembering when he had shoved the stiletto in his nasal cavity and up into his brain, and then blacked out. "Funtimes," he said, without a hint of humor in his voice. He reached down and opened the bottom right-hand draw to reach for the stiletto, and found the bear toy that the little Demon had left as a gift in his chair one day. He had forgotten he had tossed it in the drawer. He picked it up and looked at it closely. It was pink, with a rainbow on it's belly. The Vampire grinned slightly and shook his head. He leaned across the desk, and sat the thing up in the corner.
He leaned back again, and stared at the thing. It stared back. The Vampire sat forward, and with a tiny push of telekinetic energy, that he hadn't used but once, to toss a Lycan sitting in a chair against the wall, he shoved the little bear backward. It toppled off the desktop, and he couldn't see it anymore. He grinned now and leaned back again and closed his eyes, the stiletto forgotten about.
April 7, 2006 Friday
He felt it struggle beneath his firm grip as he held it under the water. His eyebrows were furrowed as he held it down with force. Bubbles gurgled to the surface, and he thought to himself that he really didn't like drowning things...it felt so...abnormal. Felt almost cheap, dirty, not like a colorful kill with a dagger, or his fangs, not a kill that made him feel alive. Still it struggled beneath the water as he held it down, determined to kill it, whether he really wanted to or not. The Vampire grit his teeth. His mind was racing now. Was it possible this piece of shit could benefit him in the future? "If you don't kill it, it can!" he heard the words clearly spoken. He wondered who spoke, and realized it was himself. The muscles in his face relaxed, and he leaned back a bit, then ripped the thing from beneath the water, pulling it back, and turning it to face him. He has such distain for it, he spit at it before he could stop himself, and then grit his teeth again - so unlike him to do that. Growling low to the thing that was barely alive, he said, "You've been given a reprieve - and why, I haven't even figured out yet!" his voice raising as he spoke. Turning, he slung it against the wall, where it hit with a loud smack, and slid to the floor. It lay there, wet, bruised and barely alive - but it was alive. The Vampire looked down at the mess. It wasn't even worth kicking. He walked away, grumbling. He would deal with it later, and it would serve him, or it would wish it had drowned under his grip tonight.
April 11, 2006 Tuesday
"I'm So Happy" by Nirvana
I'm so happy 'cause today
I've found my friends ...
They're in my head
I'm so ugly, but that's okay, 'cause so are you ...
We broke our mirrors
Sunday morning is everyday for all I care ...
And I'm not scared
Light my candles, in a daze
'Cause I've found God
Hey, hey hey [x6]

I'm so lonely, but that's okay, I shaved my head ...
And I'm not sad
And just maybe I'm to blame for all I've heard ...
But I'm not sure
I'm so excited, I can't wait to meet you there ...
But I don't care
I'm so horny, but that's okay ...
My will is good
Hey, hey hey [x6]

[x2]
I like it - I'm not gonna crack
I miss you - I'm not gonna crack
I love you - I'm not gonna crack
I killed you - I'm not gonna crack

I'm so happy 'cause today
I've found my friends ...
They're in my head
I'm so ugly, but that's okay, 'cause so are you ...
We broke our mirrors
Sunday morning is everyday for all I care ...
And I'm not scared
Light my candles in a daze ...
'Cause I've found God
Hey, hey hey [x6]

[x2]
I like it - I'm not gonna crack
I miss you - I'm not gonna crack
I love you - I'm not gonna crack
I killed you - I'm not gonna crack
June 20, 2006 Tuesday
"I tried so hard and got so far
But in the end, it doesn't even matter"
He slouched in the black-high back office chair and stared at the monitor at nothing. Suddenly he laughed cynically. On occasion, he was called "angel" and he felt this name didn't quit fit. Now he wondered if in some perverted way he was an angel. He had, after all, given someone wings...he had given a few people wings, actually. A flood of thoughts rushed into his head, and he closed his eyes against the onslaught.
Trying to focus, he pressed hard on his hand. Ironically it was still sore, nearly a week after punching the wall. He thought of the dragonhead butane lighter, the one with the green flame. He wondered just how long it would take to light up enough stuff, that the whole place would be engulfed in flames. He knew he was just sit there as the fire raged...because in the end, it doesn't even matter.
June 20, 2006 Tuesday
He'd left the party, and knew no one would notice, no one would ask. It was expected, it was the way it was, and he didn't give a shit. He knew he could be gone for hours on end, and no inquiry would be made.
The chain made a quiet squeaking noise with the slight movement of his body. His arms hung limp as he contemplated things. The annoying halogen street light overhead couldn't decide if it wanted to be on or off, and every time it went on the Vampire growled under his breath. The light cast an oddly long shadow of his body on the sand. After five minutes the light would shut off, bathing him in blessed darkness. Unfortunately the light would become uncertain again, and flicker back to life, illuminating the area.
He chose a section of time when the light went dim to remove the scalpel from his jacket pocket. The thoughts in his head made his chest feel like it held an anvil, and he moved the blade to his left wrist. In a moment of clarity, a moment of anger, he drew the scalpel deep and yelled out, "shit" in spite of himself, the pain was more intense than he thought it would be. His blood flowed heavily in streams, splattering on the sand. The light-brown granules soaked up the sanguine fluid greedily. He closed his eyes and grinned. Suddenly the light decided to become alive again and his eyes snapped open. The blood on the sand was bright now, the stain red instead of black with the light's illumination. "Fucking-a," he cursed, and sighed heavily. The street lamp was the deciding factor that he leave the area. He quickly buried the stained sand and stood up. He had been here an hour already anyway. He headed home, because in the end, it doesn't even matter.
June 28, 2006 Wednesday
Odd how sometimes the world seems so much like a dead place.
June 29, 2006 Thursday
Distracted at best, all he could manage was listening to Korn's "Coming Undone" over and over. He was unmotivated...uninspired...and it was not good. He sighed heavily, thinking of people, things, circumstances and just stuff in general. He wasn't cynical or sad...just kinda numb. "Wait, I'm coming undone, unlaced...I'm coming undone, too late" blasted into his earphones and he grinned. He really did like this song. He sighed again and knew what he would do. He would visit his friends at The Sanctuary. He'd heard they were playing a game to die for. He grinned evilly and headed out The Citadel calling for Dark Cobra. The other Vampire beat him to the Nessmobile, and the Doctor had to grin. He knew DC must have moved through the shadows to get the garage before him. "Let's go," he said with a grin to his friend and chauffeur. "There's fun to be had."
July 13, 2006 Thursday
The beast was on him again. It whispered in his ear, "You must die." It screamed in his soul, "You must die." The voices inside his head murmured to themselves. He clasped his hands to his temples and pressed his eyes shut. "Yes," he groaned, agreeing with the beast. His head hurt so bad, he could barely think. "I should not be here," he continued, his eyes still tightly closed. "Not be here," he quietly said. His mind went to the daggers, to the needles. He thought of the long, thin curved needle, and how it was perfect for suturing stitches. His mind raced now, thoughts of surgery, blood, hospital rooms...red on white. What if...he did belong here? Thoughts flooded into his brain. Some small piece of self-preservation, some tiny fleshy bit of the shreds in his brain disagreed with the beast. It was only a shred, but it was enough. The Vampire was a selfish bastard - it was enough. He slowly brought his hands down from his head and opened his eyes. A slow evil grin played upon his lips. His head now pounded softly, a slow numb beat. His eyelids felt the weight of stones, and he let them close halfway. His grin widened. "Yes," he thought, "I have a purpose." He let his mind flood with images of daggers ripping through flesh, and blood splattering on the walls...bright white walls. Stainless steel examination tables, and straps, and scalpels filled his head. He slowly rested his head upon his folded arms, and let himself drift off to sleep, seated at his stone desk.
July 17, 2006 Monday
Sometimes the line is so blurry I wonder if there is even a line at all.
July 20, 2006 Thursday
They invited the Vampire into their home. He grinned slightly and opened the door and stepped inside. He held those inside in his eyes for a bit, trying not to stare, but staring non-the-less. The conversation was almost non-existant, yet they invited him in...and for that he was grateful.
August 4, 2006 Friday
The rat ran down one alley to a dead end and stopped to back up. He turned and scurried back down the maze corridor, and turned a corner. The Doctor pressed a button on the tabletop rat maze and a small wall slid up blocking the rat from going any further. Again the rat turned to scramble down the maze, and turn a different corner. Again, the Doctor pressed a button, and another tiny wall slid into place, blocking the rat in it's trail. He spoke cynically to the rodent. "So, you are trapped, aren't you, you stupid bastard." The rat turned again, taking the pathway until the man blocked him once more. He grinned now, and reached his hand into the maze and grabbed the rat hard, and flipped him upside down. The creature squealed out in fear and the Doctor chuckled. "Trapped," he said again, and scoffed. The man looked down at the black cat who was walking back and forth, curling his tail against the Doctor's legs. He looked again at the rat, and then tossed it to the floor. The rodent actually made it five feet across the Lab floor before the cat pounced upon it. The Doctor grinned evilly and said to the dying rat, "You should thank me, I've freed you."
August 18, 2006 Friday
He sat at his desk in Lab #4, and pondered the video his Lab Assistant sent him. Ironically, there was a lot to be "said" for the image...or not to be said. He let out a sarcastic "Ha!", then shook his head back and forth.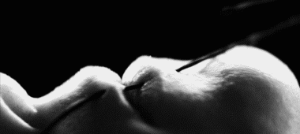 He seriously wished he had kept his mouth shut. Suddenly he bellowed out His Assistant's name. "Mirage, come here now!" Within moments, she peeked her head into the door, and he motioned her closer. She entered, closing the door behind her. He stood and shoved needle and thread into her hands and turned and hopped up on the medical table. He lay back, then twisted on his side, propped up on one elbow. "That video..." he grumbled. She nodded her head in understanding. "Do it now!" and then he growled, "And do a good job!" He lay down again, letting the back of his head fall onto the metal table with a loud "thump."
November 15, 2006 Wednesday
The Vampire sighed. He didn't even feel like hunting, which was very unusual, though he wouldn't mind a good serving of blood. His eyes glossed over at the thought of "removing" the crimson treat from some unwary bystander - some human. His fists tightened as the carnage raced through his mind. Suddenly he snapped back into reality. His thoughts danced to that stupid fucking squirrel. He remember his - glee - at picking up the dead creature. It's head was nearly detached from the body - sinew and muscle strands stretched out - barely holding the head attached. He grinned. Why shouldn't he be proud of his midnight black cat? It was a good kill, and the gore was an added bonus. He sighed. His friend didn't seemed to appreciate the cat's cunning kill. A human friend pointed an accusing finger at him. "You really are sadistic!" The Vampire grinned at the thought. "No shit," was his reply. The evening went downhill from there. He shook his head, feeling very misunderstood. He thought for a moment - he was almost....feeling sorry for himself. He scoffed and sighed still once more. "Stupid humans," he grumbled. He longed to be in Coney Island once again. He longed to walk the boardwalks and stroll on the ocean-side sand. A huge grin curled his lips when he thought of the beach. Visions of a lovely creature, a NIN song and dancing chicken fryers crashed into his brain.
The Doctor stood up from his chair now, his mood elevated a notch or two. It wasn't much, as he was pretty low, but it was enough. He suddenly got an appetite and quickly walked the halls to the grand entrance of the manor. Dashing out the door, he headed for the town to the south. His favorite hunting spot. He remembered one time trying to track a unique scent of fear. He shook his head to clear his mind. There were other scents of fear he would pursue now, and they would start at the end of his fangs. The Vampire walked with a brisk spring in his step, as he headed southward, toward his next kill.
December 2, 2006 Saturday
Things are better if I stay.